I have been a very long time user of Palmers Cocoa Butter but recently I have been asking myself WHY am I using this product? It hit me that Palmers Cocoa Butter doesn't really do anything for my skin, I have very dry skin, and the dryness is always back a couple of hours after application and usually a lot worse! Does anyone else experience this?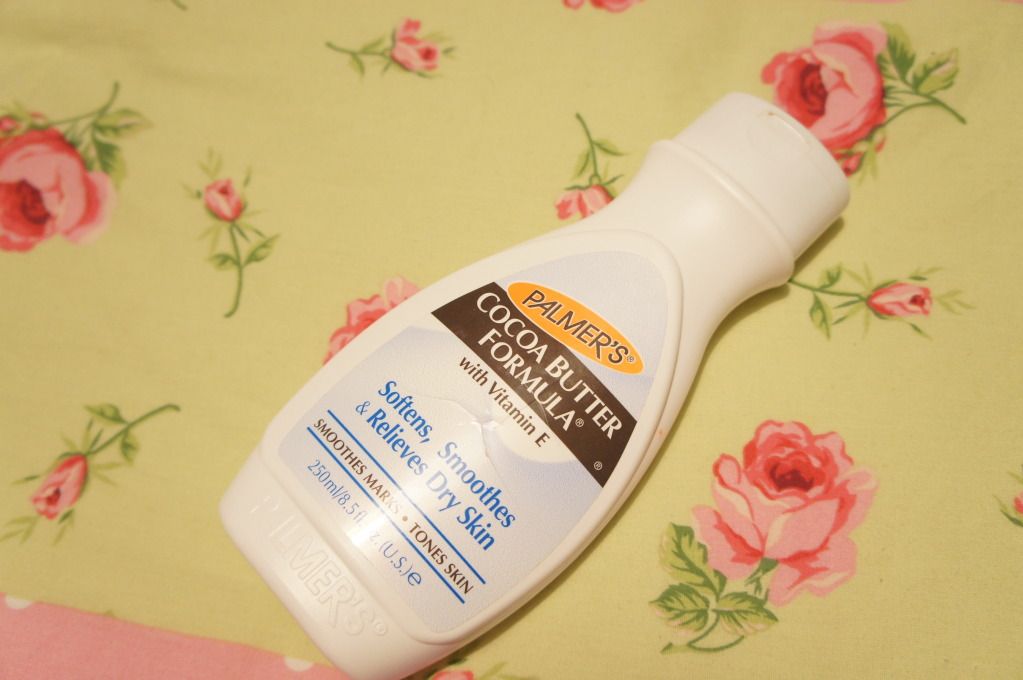 I investigated the ingredients. I am always very ingredients conscience and go by the theory that if there is a lot of ingredients, its probably not going to be good for you and if you can't pronounce half of em, even worse!
Here is a little breakdown of the ingredients, I have highlighted the ones in bold that I find particularly interesting/not so good for your skin!
Cocoa Extract - It is the fact extracted from the bean. Temporaraily protects injured (aka newly scarred skin) from harmful stimuli and aids the healing process. It is used as a skin conditioning agent. I find it very interesting that Palmers uses more extract than actual cocoa butter.
Glyceryl Stearate - This is the agent that slows the loss of water from the skin forming a barrier between the skin and air hence why Palmer's Cocoa Butter claims to be great for dry skin. Softens the skin and creating a smooth texture.

Studies have shown Glyceryl Stearate to be completely safe for cosmetic use and there are no links to any health risks.

Petrolatum - Again it protects injured skin during the healing process and aids it. It is also a skin conditioner and creates a barrier between skin and air retaining moisture within the skin. This ingredient has a lot of controversy surrounding it. If unpure, the ingredient is linked to health issues, and the EU has actually banned this ingredient unless it can be shown to be pure. It is derived from hydrocarbon and can actually block your skins ability to moisturise itself - the opposite of what its supposed to do! This causes dry skin (the very thing Palmers is sold to alleviate!) Also the "barrier" it creates to retain moisture is actually shown to clog pores and cause acne!
Propylene Glycol - If formulated properly and used under 50% concentration, it is shown to be safe for cosmetic use. However this ingredient is another debatable one. It does have links to eczema (which is a condition I have) but for the most part it is deemed safe. If you research however, there is a lot of debate about this product and it is on a lot of people's lists as the ingredient to avoid!
Glycerin - A very common ingredient used in cosmetics because it is very versatile. It is used to moisturise and is often found is most, if not every moisturiser. It helps the skin retain moisture and helps prevent dryness.
Coconut Oil - Great for dry skin and skin softening properties. The only concern to be had is whether or not Palmers sources this ingredient ethically.
Paraffinum Liquidum - Also known as mineral oil. The general rule is... this isn't very good for you (however this is highly debated). It is designed to coat the skin, creating that barrier. This is known to clog pores and cause breakouts (for this reason I will never ever use Palmers on my face again!) It is said that mineral oil also slows down the skins ability to develop cells and because of this causes premature ageing. While researching this ingredient however, I found that a lot of people believe this is all a myth and scientific evidence is very lacking.
Behentrimonium Methosulfate - More commonly used in hair for detangling but also used for its great moisturising properties.
Cetyl Alcohol/Cetearyl Alcohol - Used to create the consistency (thickness) of the cream. It can also be used to create/destabilise foaming agents.Both are deemed harmless but some studies have found them to be an irritant.
Cocoa Butter - Considering Palmers is actually called a Cocoa Butter, there is a surprising lack of the actual ingredient in the lotion.Cocoa Butter is great for dry skin and known to be great for the healing process of scars. However there is very little evidence to support that cocoa butter heals scars, and many doctors say it is the barrier created that allows the scars to heal without contamination and the actual act of rubbing in the moisturiser can help stretch marks.
Palm Oil - The biggest concern about palm oil is whether or not it is ethically sourced. Orangutans are loosing their habitats due to the increasing trade in Palm Oil. On the Palmers website however they have stated their Palm Oil is sourced responsibly and they are committed to protecting native animal species such as orangutan and tigers. I cannot applaud them enough for this and their non animal testing policy.
Dimethicone - This is a non foaming agent, mainly used to get the consistency of Palmers. I really like the texure of palmers, it is smooth and buttery. It is also a great lubricator for dry skin. This ingredient is highly valued in the cosmetic industry and also medicine industry because its great for dry skin especially in the winter months.
Tocopheryl Acetate - AKA Vitamin E. It is a natural preservative found in plants and is used because it is a great anti oxidant and an especially good skin conditioner. It is a great, natural and safe ingredient with a lot of good properties.
Hydroxyethylcellulose - Another natural ingredient found in the cell walls of plants. It is non toxic and is a thickening agent, but its very multi purpose.
PEG-8 - Another controversial ingredient linked to eczema and premature ageing. PEG's always have a number after their name which basically means the molecular weight of that compound. The smaller the number, the easier it is to penetrate the skin. As you can see this PEG has the number 8 which means it penetrates the skin very very easily. This is supposedly a good thing, after all you would want the ingredients of your moisturiser to sink into your skin, however studies recommend if you have exzema or any skin that is broken/inflammed it is best to stay away from anything with the ingredient PEG, because it can irritate. If concerned, I would look into this ingredient a lot more!
Methylparaben and Propylparaben- Anti-fungal so will prevents moisturisers from going bad. The word paraben sends alarms bells ringing in my head. Although when used in small quantities it is regarded as safe, the main concern is the link between parabens and breast cancer (when used in high concentrations but still pretty alarming). However they are concluded as safe to use upto levels of 25% and Palmers lists it as one of their smallest concentrations of ingredients. There is high debate regarding this issue and many people choose cosmetics which don't have parabens in because of the evidence surrounding it to health issues.
Perfume - Perhaps the most concerning ingredient is the fact that the lovely smell from Palmers Cocoa Butter is not the actual Cocoa Butter/extract itself but is formulated in a lab somewhere. Perfume is a well known irritant.
This does not mean Palmers is terrible for you and everyone should stop buying it. Many of my close friends use it and sing its praises and its so highly raved about so clearly it does work, just not with my skin! Also please bear in mind the ingredients may have debate about various health issues they cause, but they have often been tested in high concentrations and cosmetics have such a low concentration there really is no need to worry. I am very conscience about what I put on my skin because I have such dry and sensitive skin so I myself won't be buying Palmers again (I have 3 tubs to get through yet!) There is no denying it makes my skin ridiculously soft, but there is no way it relieves my dry skin. If anything it makes me itch and makes it worse and researching the ingredients has given me some indication as to why.
I would be very interested to know what other people think and if they have had any similar experiences to mine. While researching I found that people against using Palmers recommended using a 100% Natural Cocoa Butter which is supposedly Palmers without the nastys. What do you think?
Sorry for the sciency post guys. Am back tomorrow with a make up look :D